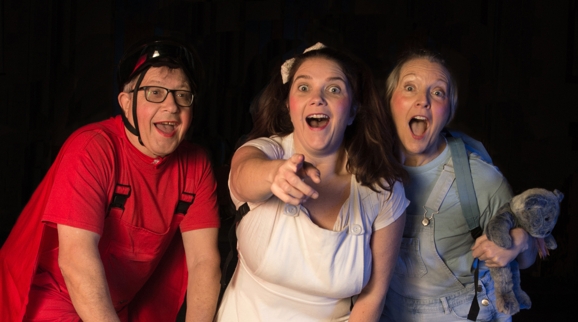 News
Spring 2018:
Special Announcement:
Congratulations made on your successful application to the Arts Council of England! made is now launching its fabulous new Early Years programme
'Wenna's Wonderful World'
with 48 creative arts workshops in early years settings and 6 new interactive performances in 4 venues across Cornwall over the next two years. A huge 'Thank You' to the Hall for Cornwall for their help with the application. The venues are Hall for Cornwall in Truro (Tuesday 13th February 10.30am), the Poly in Falmouth (Sunday 18th March 2.00pm), Sterts Theatre near Liskeard (Friday 23rd March 5.00pm) and the Acorn Theatre in Penzance (Tuesday 10th April) Theatre Arts Fun for children (2-6yrs) and their parents. Come and play with Wenna and her friends as they set off on a magical journey. Let's start with some art and then sing and dance together in Wenna's World. And we'll finish with a cup cake party! We think it might be raining so please bring your wellies!! Tickets available from each venue.
'Big Sing, Little Sing':
With funding from Youth Music made artists are visiting three early years settings to work on their 'Big Sing, Little Sing' early years singing programme. The children, parents and setting staff are trialling the materials for made for two terms then the artists will be visiting 6 more early years settings across Cornwall to pilot the materials. The very young children are loving the characters, songs and activities and parents are all set to join our 'Rolling Tones' Adult Choirs alongside their children in the 'Teeny Tones' Children's Choirs. Watch this space for some community singing events you might like to attend!
'Acrobatic Arts'
is going from strength to strength! This beautiful fusion of classical dance with the athleticism of acrobatic elements is happening at Helston Community College on Mondays from 3.30 to 4.30pm for KS2, KS3 and KS4 young people and three levels at the Bev Lyn School of Dance on Tuesdays. Places are limited. Get in touch to book your place.
'Side by Side':
made artists are continuing to visit Memory Cafes from St Just to Lostwithiel providing participatory creative workshops in music, dance, visual art, photography and poetry until April 2018. These visits are filled with great joy and creative activity as artists and dementia support workers collaborate with people with memory challenges and their carers.

For information on any made projects or programmes please email: info@made-arts.com




Welcome!
Welcome to the new

website. We hope you enjoy reading about our arts education work, which engages people from 'womb to tomb!'
Ethos

's work is underpinned by a strong commitment to person centred artistic processes, action research and reflective practice. Evaluation is critical in the development of

projects and programmes. Working in partnership with

means that client groups engage in a relationship which meets the needs of the participants first, whilst still maintaining the integrity of the organisations involved.

arts interventions are bespoke, effectively managed, professionally delivered and critically appraised!
History
Since 1996

(formerly Music and Dance Education Ltd) has been initiating exciting and creative music and dance interventions in partnership with early years providers; schools, colleges and extended services; youth and community groups; and health care settings.

has now relaunched the organisation to embrace drama and art. Watch this space!
Artists
The

team of arts practitioners are professional artists with relevant qualifications, CRB checks and Public Liability Insurance. They are experienced in working across ages, abilities and sectors and are keen to train new artists in the work.
Please enjoy the information and photographs on our website and send your comments to the made-arts Facebook Page!
- Artistic Directors Pat Hickman (Dance) and Chris Morgan (Music)